St. Johns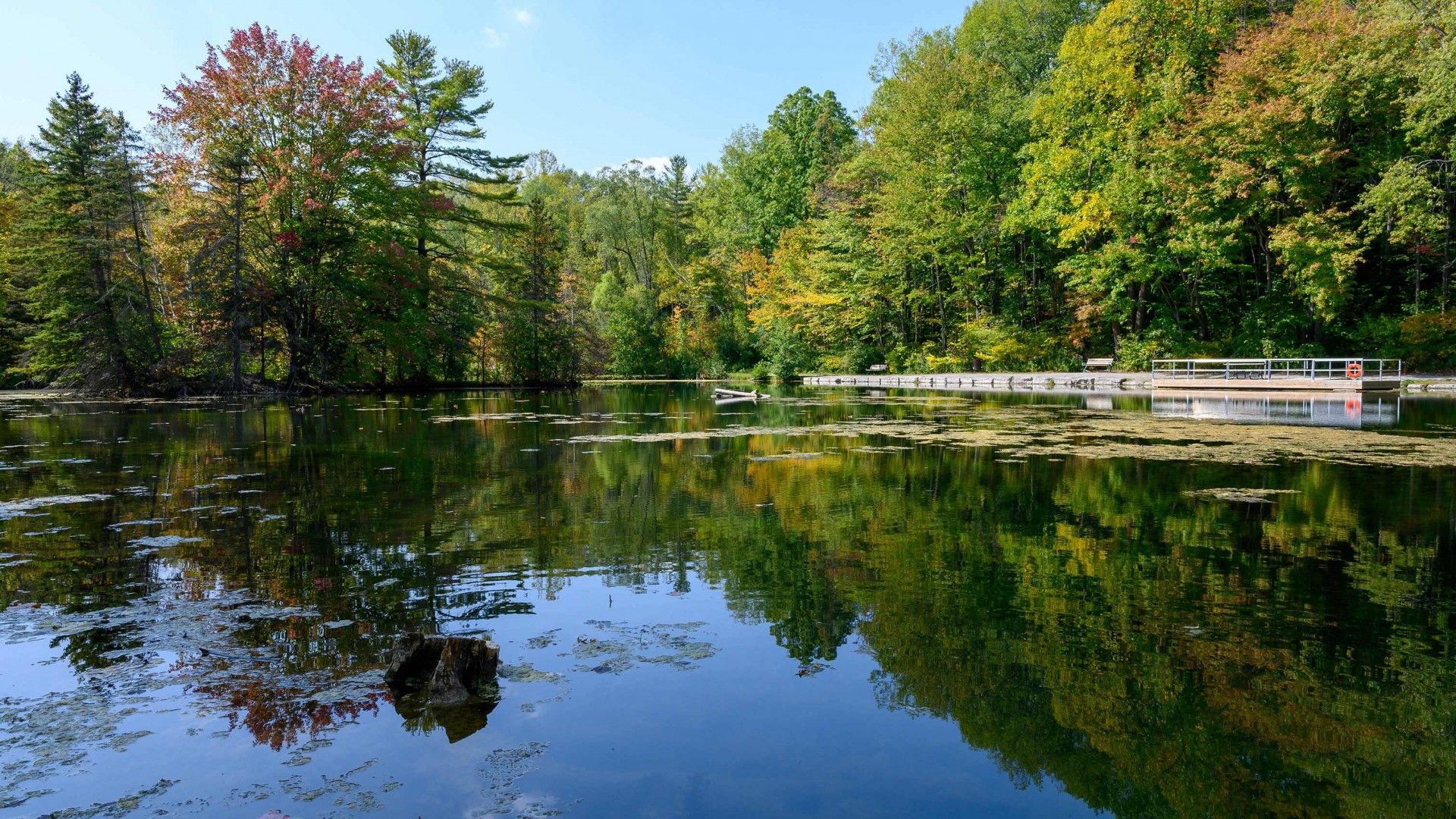 Notice


A UNIQUE SITE FOR HIKING & NATURE APPRECIATION ALL YEAR ROUND.

FISHING OPPORTUNITIES ARE AVAILABLE FROM THE 4TH SATURDAY IN APRIL TO END OF SEPTEMBER (RAINBOW TROUT SEASON) ONLY.

Please consider catch and release angling to ensure fishing opportunities for the community throughout the season.
---
St. Johns Pond Opening and Education Day
Pond opening and official angling season begins on Saturday, April 22nd, 2023 at 10:00 am, gates open at 9:00 am
Limited parking available, please space out your arrival and departure times
Activities and education programming onsite from 9:00 am - 1:00 pm
---
Located within the Niagara Escarpment and Twelve Mile Creek valley, this natural area provides a tranquil setting for wildlife and visitors. A hot spot for seasonal trout fishing, St. Johns is also known for bird watching and nature education.
Boasting four trails of varying lengths and difficulty: The Tulip Tree, Sassafras, Horseshoe, and St. Johns Ridge trails each wind their way through this large interior forest. Some trails are wheelchair and stroller accessible.
St. Johns is a sensitive ecosystem, so please help us protect it by keeping to the trails, and refraining from removing any plants or animals (including minnows, tadpoles and frogs).
Healthy Ecosystems and parks = healthy environments for us all. All species and their populations at the site work together and are dependent on one another with a balance between producers and consumers. If some are removed, the balance is offset. For example, if turtles, tadpoles, frogs which eat algae, are removed from the pond at St. Johns, algae along with warm temperatures and excessive nutrients (i.e. from food feed to animals) will increase. Algae blooms can be harmful to fish and aquatic species.
As a result to help protect these important areas and functions, we thank you for taking memories and pictures only, and keeping wildlife and plants in the wild.
Fishing: MNRF Fishing Regulations apply at the Conservation Area. For more information, please visit https://www.ontario.ca/page/fishing or https://www.ontario.ca/document/ontario-fishing-regulations-summary.
IMPORTANT INFORMATION

WHY YOU SHOULD NOT FEED WILDLIFE

Wildlife in nature are part of a bigger system dependant on one another for food and cover. Feeding wildlife can make them depend on humans for food and they lose their natural fear and may put themselves in dangerous situations such as crossing a road for search of food, or become aggressive if food is not provided. ·

In addition, if bread, crackers, popcorn, or other high-carbohydrate foods are fed these have little nutritional content. Birds fill up on them and will not seek other, nutritious food in nature. This can cause the birds to become malnourished, which can contribute to a host of health problems

A diet rich in carbohydrates will cause the birds to defecate more, which can spread bacteria that can contribute to disease. Any uneaten bread left on the ground could:

Become moldy and cause aspergillosis, a lung infection that can be fatal to waterfowl

Decompose and lead to growth of excessive algae which can be out of balance and affect the health of other fish and wildlife, and attract other pests, such as rats, mice, and insects, which could spread disease.

We thank you in advance for your cooperation.

Situé dans l'escarpement du Niagara et de la vallée Twelve Mile Creek, cet environnement naturel fournit un décor paisible pour la faune et les visiteurs. Un endroit prisé pour la pêche saisonnière à la truite, St. Johns est également connu pour l'observation des oiseaux et l'éducation pour la nature. On y trouve quatre sentiers de différentes longueurs et difficultés à St.Johns: The Tulip Tree, Sassafras, Horseshoe, et St. Johns Ridge. Chaque sentier jalonne cette large forêt intérieure. Certains sentiers sont accessibles aux personnes en fauteuil roulant et aux poussettes.

St. Johns est un écosystème fragile, alors aidez-nous à le protéger en demeurant sur les sentiers, et en vous abstenant d'enlever des plantes ou animaux (incluant les vairons, les têtards et les grenouilles).