Chippawa Creek

Notice
Chippawa Creek is a splendid example of conservation in action. The NPCA's resource management practices have fostered an ideal wildlife habitat that offers rare public access to the Welland River. Recreationalists and naturalists alike will enjoy a variety of opportunities and activities that is uncommon in the southernmost part of Ontario. Many visitors to Chippawa Creek used to think they had to drive north for the experiences available here.
Dils Lake, a 10 hectare man made reservoir, is the perfect spot for a variety of outdoor activities including non-motorized boating, swimming and fishing. Equipped with wheelchair-accessible fishing piers and trails, the lake is populated by a variety of fish species including large mouth bass, crappie and carp and is a favourite amongst area anglers, many of whom attend the annual Bass Derby held each July. Additional events hosted by the Campers' Recreation Committee include Canada Day parase, Halloween Celebrations, and Christmas in July.
In addition to offering 156 campsites, the vast open areas can be used year round. Popular summer activities include hiking the 1.1 km trail around Dils Lake, group picnics, or just relaxing in the shade near the water. For more information about camping, or to reserve a site, visit the NPCA Reservations Service page. Please note, bookings open in April of every year.
A small boat launch and access to the Welland River entice explorers to check out one of Niagara's main watercourses. A sheltered pavilion is available for public use or by reservation. Chippawa Creek Conservation Area is a dog-friendly park, but all four-legged friends must be on a leash.
Alcohol Ban: There is a total alcohol ban for Victoria Day and Labour Day Long Weekends.
NO FISHING DURING OFF SEASON AT CHIPPAWA CONSERVATION AREA
It is recommended that guests refrain from using charcoal when bbqing and instead, opt for the use of propane. Please note there are no receptacles to dispose of hot coals on-site and this poses a fire hazard.
Buy your NATUREPLUS Annual Membership Pass here.
Upcoming Events
Jul 11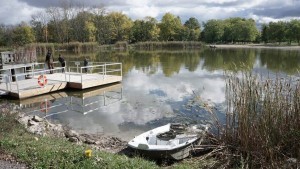 7th Annual Douglas Elliott Memorial Bass Derby
WHERE:
Chippawa Creek Conservation Area
COST:
Regular Admission $8/Adult $6/Seniors&Students
Details